COVID-19 RESOURCES
This page was created to help as a resource and give updates and provide webinars during the COVID-19 Crisis.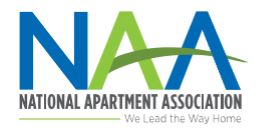 For all industry-specific questions regarding COVID-19 please email cv19questions@naahq.org
NAA's Guidance for Dealing with the CoronaVirus
Novel Coronavirus_guidance.pdf
Best Practices For Resident Exposure
10 ways to Keep Residents Engaged During Covid-19
Dailey Micro-WEBINARS
Webinars/coronavirus-outbreak 3/19/2020
Handling Maintenance 3/23/2020
My Resident Tested Positive for COVID-19, Now What? 3/24/2020
Guidance for Suppliers Amid Covid-19 3/25/2020
---
---

THE FREE WEBINAR HOSTED by CSU on 3/36/2020 @ 1:30pm
9 Things Every Leader Should Know
---
Multifamily Insights on COVID-19
A Study by J Turn March 2020 Study
---
Handling Stress During Covid-19
---
https://www.cdc.gov/
---
Association Staff
The Executive Director is responsibility of the management of the Association by recommending and participating in the formulation of new policies and decisions. Plans, organizes, directs, and coordinates the programs and activities to assure that objectives are attained, plans fulfilled, and member needs met, while also maintaining effective internal and external relationships. Through management and leadership, the director achieves economical, productive performance, future programming, and constructive growth of the Association.
Denise McClary
28 years of Industry Experience
Executive Director
Greater Columbus Apartment Association
This page is updated daily by GCAA